This is the langraff mod posted by Kahel. It is a clipping mod. It is shown in context for the tubescreamer kit, but this can be applied to any OD, fuzz, or distortion that uses diode clipping.
I was asked privately if I could make a drawing of how to implement the diode clipping switch from a Landgraff on a BYOC overdrive, and I can, so here it is: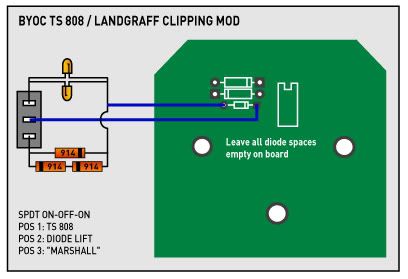 Now, if no diode clipping at all makes no sense to you (the middle mode) and you'd rather want a third mode, you should use a DTDT on-on-on switch instead. These have internal connections between lugs 2-3 and lugs 4-5, effectively making them 1P3T switches with outputs on pole 1, 4 and 6:
Small Bear doesn't carry any of these, but Mouser has a few. Do a search for "DPDT on-on-on".
Of cource, if you want to get real fancy you could get a small piece of veroboard, add socket strips across it, and have three customizable modes you could play around with forever. Like this:
K
verified by byoc