Stephen wrote: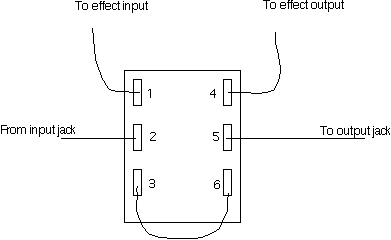 To hopefully make this a little easier to understand lets get our terminology straightened out here and then we'll go from there. :)
The above is a diagarm of your typical Dual Pole Dual Throw (DPDT) stomp switch. Lugs 2 and 5 are the actual "poles". Lugs 1, 3, 4 and 6 are the throws. There are 6 lugs but only 2 actual poles. A 3PDT switch would have another center connector and a throw above and below it. So now you would have 9 lugs but only 3 actusl "poles".
If the Dunlop switch you are replacing only has 3 lugs then it is a Single Pole Dual Throw (SPDT) type switch. If you have a DPDT type switch you can use it in place of the SPDT switch. A DPDT switch is nothing more than 2 SPDT switches in a single package.
Thanks Stephen, sorry to get the terms mixed up, I just built a couple pedals, so the other guitarist in the band thinks I now know how to do everything else pedal related.
That diagram clarifies things up a bit as the diagram looks like the swicth I ordered. However switch that is on the pedal right now looks like it just has 4 lugs (without luugs 3 & 6), that is where I am getting confused now...
So here is my other newbie question (please bear with me): Since 3 & 6 are bridged would clippling the lugs off, or not bridging them at all have any affect on lugs 1, 2, 4 & 5?
And another one, is there any way to change the switch part of the of the switch without having to mess around with lugs? Cause the switch itself won't turn the wah on by foot, but I can turn it on by pressing it with my fingers several times. However, the switch always turns off with just one click, either by hand or foot.
Any info or advice would be greatly appreciated. Thanks for your time!