cchord59 wrote:
I should have clarified:
as I am looking at the inside of the pedal from the back, with the pots at the top, and the switch at the bottom.
the R3 is wired to the left lug, r2 to the middle, and r1 to the right. same with l3 l2 and l1.
here is a link to my pics, I'm sure my soldering sucks, so let me know, and I won't cry.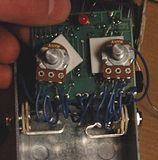 As far as I can tell, it looks like the wiring is correct, but maybe someone else can help me verify that.
Have you tried reflowing (just putting a hot soldering iron on the on the solder thats already on the connection to re-heat, and re-flow the solder to the component and/or PCB) the solder joints on the pots and from the pots to the PCB?
I just mention this because it may just be a camera angle/flash issue, but the solder on the PCB at L2 looks kind of dull and not as shiny as the 2 on either side, and that might be a cold solder joint, which would interfere with proper function of the pots.